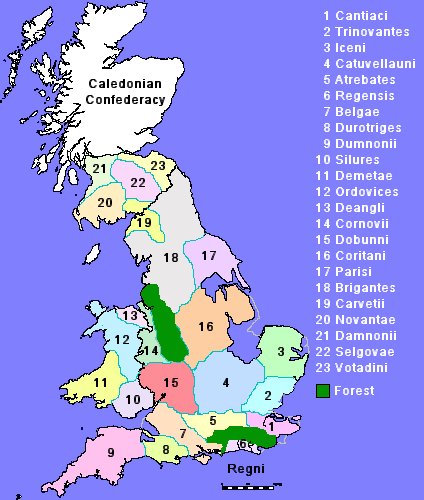 Ptolemy was an astronomer and mathematician who probably worked in Alexandria between 127AD and 148AD, he wrote a number of Astonomical, Mathematical and Astrological books, and his Geographica that describes the locations of towns, tribes and rivers across the Empire.

This map is a modern interpretation of the work of Ptolemy's Geographica which shows the approximate location of the Celtic Tribes after the Roman conquest of 54AD.

Two major forest are shown, Anderida in the south and a second along the welsh border, the existence and spread of these is derived from the location of Saxon villages containing 'hurst' which appears to mean forest clearing - see our Anderida Forest Map.

You will also notice that the map shows the 4 metre high tide levels which influences the coast mostly in Sussex, Kent, Essex, Norfolk and the Wash. The shape of Britain in todays maps has been massively influenced by drainage of marshlands and provision of sea defences. The Wash was a tidal basin and the Romney marsh was predominantly tidal mud flats but other areas especially around Kent, Essex and the Humber have had major changes. Many thanks to firetree.net for their wonderful website showing sea level effects on the coastline - link is below.